Fearless Felix Ofosu Kwakye Drops Fresh Bombshell On Martins Amidu And Exposes The NPP
If you're in Ghana and you've not been caught up in any controversy then you're either not a politician, musician, comedian or an officer, as Ghana is always caught up with different propaganda and controversies. Felix Kwakye has finally risen up and he is ready to give it hot to his opposition party. He has dropped a fresh bombshell on Martins Amidu and exposed the New patriotic party's agenda.
Today, Martins Amidu came all out for John Dramani Mahama concerning the Airbus scandal, and how he gave his brother a position that he wasn't qualified for.
Martins Amidu in his statement called out the flag bearer of the National Democratic Congress, he said if he was Man enough and wise enough, he should come forth for questioning. His statement was making rounds on social media and in Ghana when fearless Felix Kwakye Ofusu decided to speak up and defend his ally John Dramani Mahama.
Reacting to what Martins Amidu said he called Martins Amidu a peddler of falsehood against John Dramani Mahama, and he revealed a secret that he is to dismiss as a hired propagandist of the NPP which he said are on a fruitless adventure.
READ ALSO; Weapons seized at Tema port miraculously turns out to be gas pistols – Police reveals
Read his full statement below;
"𝘔𝘢𝘳𝘵𝘪𝘯 𝘈𝘮𝘪𝘥𝘶 𝘪𝘴 𝘢 𝘴𝘦𝘭𝘧-𝘤𝘰𝘯𝘧𝘦𝘴𝘴𝘦𝘥 𝘱𝘦𝘥𝘥𝘭𝘦𝘳 𝘰𝘧 𝘧𝘢𝘭𝘴𝘦𝘩𝘰𝘰𝘥 𝘢𝘨𝘢𝘪𝘯𝘴𝘵 𝘑𝘔.𝘏𝘦 𝘪𝘴 𝘵𝘰 𝘣𝘦 𝘥𝘪𝘴𝘮𝘪𝘴𝘴𝘦𝘥 𝘢𝘴 𝘢 𝘩𝘪𝘳𝘦𝘥 𝘱𝘳𝘰𝘱𝘢𝘨𝘢𝘯𝘥𝘪𝘴𝘵 𝘰𝘧 𝘵𝘩𝘦 𝘕𝘗𝘗 𝘰𝘯 𝘢 𝘧𝘳𝘶𝘪𝘵𝘭𝘦𝘴𝘴 𝘢𝘥𝘷𝘦𝘯𝘵𝘶𝘳𝘦 𝘪𝘯 𝘵𝘩𝘦 𝘮𝘪𝘴𝘨𝘶𝘪𝘥𝘦𝘥 𝘣𝘦𝘭𝘪𝘦𝘧 𝘵𝘩𝘢𝘵 𝘪𝘵 𝘸𝘪𝘭𝘭 𝘪𝘮𝘱𝘢𝘤𝘵 𝘵𝘩𝘪𝘴 𝘦𝘭𝘦𝘤𝘵𝘪𝘰𝘯
𝘐𝘧 𝘺𝘰𝘶 𝘢𝘤𝘵𝘶𝘢𝘭𝘭𝘺 𝘣𝘦𝘭𝘪𝘦𝘷𝘦 𝘵𝘩𝘢𝘵 𝘵𝘩𝘦𝘳𝘦 𝘪𝘴 𝘢𝘯𝘺𝘵𝘩𝘪𝘯𝘨 𝘪𝘯 𝘩𝘪𝘴 𝘈𝘪𝘳𝘣𝘶𝘴 𝘵𝘪𝘳𝘢𝘥𝘦,𝘥𝘪𝘴𝘢𝘣𝘶𝘴𝘦 𝘺𝘰𝘶𝘳 𝘮𝘪𝘯𝘥. 𝘈𝘉𝘚𝘖𝘓𝘜𝘛𝘌𝘓𝘠 𝘕𝘖𝘛𝘏𝘐𝘕𝘎 𝘸𝘪𝘭𝘭 𝘤𝘰𝘮𝘦 𝘰𝘶𝘵 𝘰𝘧 𝘪𝘵."
See the post below;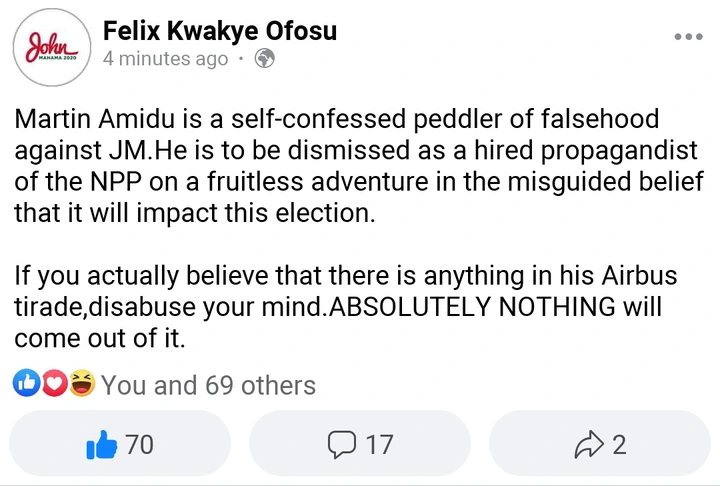 READ ALSO; Seduce NDC Men To Vote For Us – Minister Tells NPP ladies